Talent for business success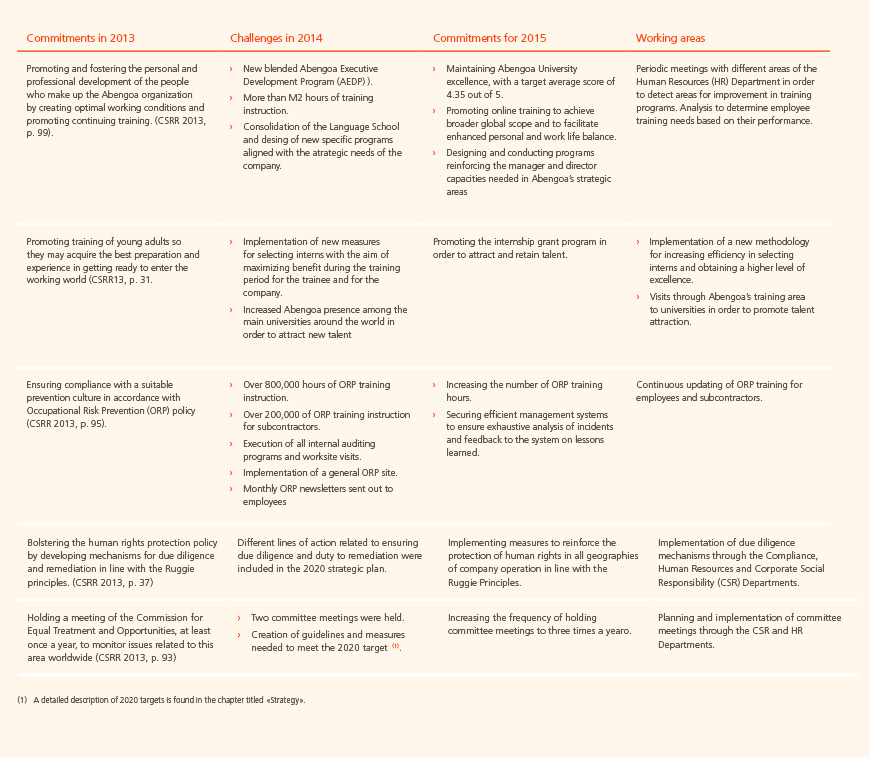 People and their talent are an indispensable part of businesses and they have an unquestionable effect on their market success. The ever-increasing competitiveness that exists among organizations makes people a differentiating factor.
With a business base grounded in innovation and technology, Abengoa develops human resource policies aimed at the development of employee talent, abilities and aptitudes by promoting and providing the training needed to excel. This ensures that the company is supported by top talent and personnel who are ideal for each position. All of this is approached with the aim of making Abengoa a highly competitive company
The company lends particular importance to attracting, selecting and retaining its human capital and therefore has a comprehensive management system in place that encompasses all human resource processes and which is applied globally throughout the organization.
Independent Panel of Experts on Sustainable Development Recommendation 2014
Social and environmental performance
"In order to measure the impact of sustainability policies Abengoa should select a limited number of key performance indicators, both qualitative and quantitative.
In terms of environmental performance can Abengoa move in the direction of explaining the return on investments made, such as the extent of cost reductions, process improvements, product innovation or the positive impact on local communities.
With the example of training activities, this would involve recording how improved skillsets and/or behavior resulted from training rather than just reporting training hours statistics."
Our team in figures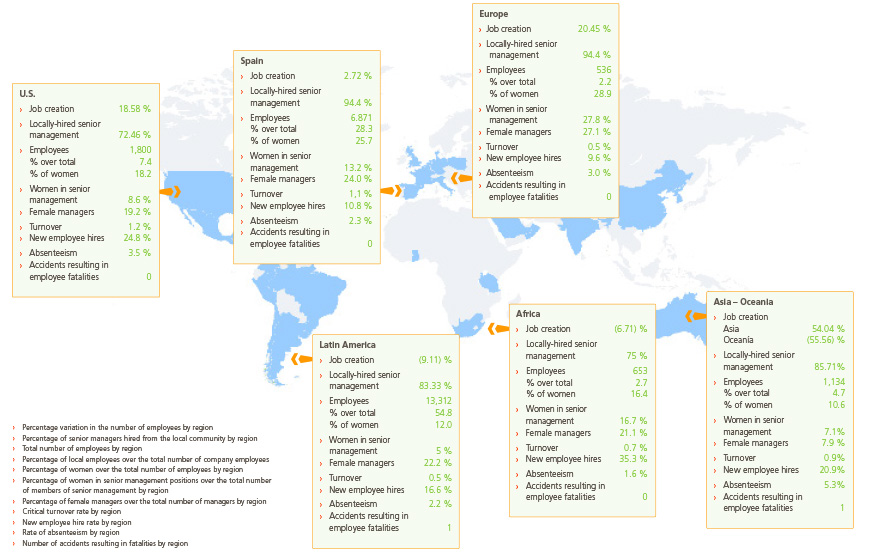 In 2014, contract awards and implementation of new projects enabled Abengoa to increase its employee headcount in some regions, such as Europe, the U.S. and Asia. In other geographies, completion of projects under construction has led to a drop, although not significant, in the number of employees1.
Overall growth in the workforce amounted to 1.4% with respect to 2013, having ended the year with a headcount of 24,306 employees.
The company promotes local employment, which empowers the organization in adapting to the challenges posed in each of its more than 57 countries of operation.
Abengoa staff distribution by gender, activity area, employee category and contract type was as follows 2: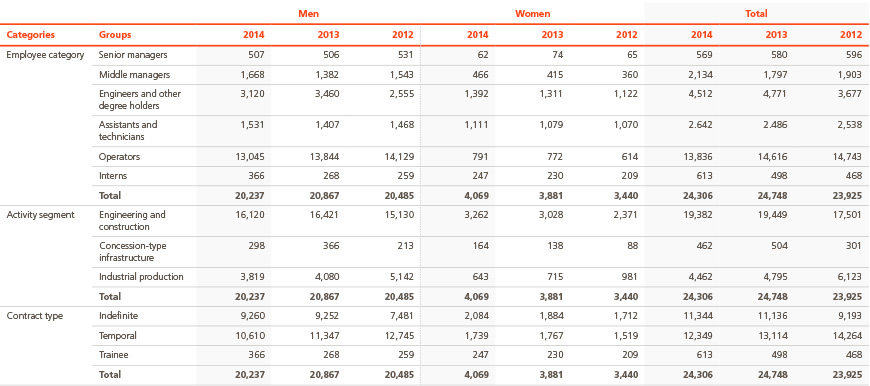 ---
Note 1: This is the case of Latin America, where the a complishment of some projects, most of them transmission lines projests, and the end of collection of sugar cane have been made to decrease the volume of employees at December 31.
Note 2: The data breakdown by region in 2014 and evolution over the past three years can be consulted in the Appendix C.
Staff distribution by age bracket, gender, average age and evolution over the past three years was the following:

The percentage of company staff over the age of 50 is 12.5 %, and for those under 30 years of age the figure is 31.3 %.




The average age of Abengoa's workforce in 2014 was 36.4 years, holding steady at ratios similar to those in previous years.

In 2014, the number of female staff members rose by 4.6 % with respect to last year, going from 15.7 % in 2013 to 16.7% in 2014. Under the employee category3 women represent 30.75 % of the company's staff, with respect to the figure of 29.88 % from the previous year. However, the percentage of women in senior and middle management positions has dropped.

---
Note 3: There are two major categories: employees and operators.
Female presence in senior and middle management positions was 19.5 %.

As the result of the decrease in the number of women holding senior and middle management positions, Abengoa has set a target of 20 % for women in senior management positions and 35% for women in middle management by 2020.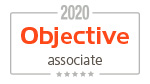 Integrity, innovation, commitment and professionalism are the core values of our team of people
Employee commitment
Abengoa is aware that the future of the company and the international prestige of its projects rest upon the work and commitment of its team of people. Human capital is one of the fundamental levers in meeting expectations for growth and addressing arising business opportunities. This will require fresh talent trained in and focused on market demands. The importance Abengoa attaches to talent lends particular relevance to turnover indicators. In 2014, the turnover rate was 6.9 %, with respect to a figure of 4 % in 2013. Among these exits, those considered critical amounted to 0.9 %, over a figure of 0.7 % in 2013.
Critical turnover rates4 by gender and age bracket were as follows:

In cases of voluntary terminations, questionnaires and interviews are conducted in order to gain deeper understanding of a worker's reasons for leaving the company to thereby determine potential areas for improvement.
---
Note 4:Critical turnover: leave of people considered essential for the company because of their porformance or position.
The table below shows new employee hire rates by gender and age bracket:5

With respect to returns of workers following parental leaves, it can be observed that the percentage of employees who returned to their jobs holds steady at over 99 %, a figure that is similar to that seen in previous years.

---
Note 5: There is not comparable data verified by an extenal anditor dueto this is the first year publishing this information.
In 2014 we conducted more than 2 M hours of training
Training
Abengoa operates in a competitive industry, where employee knowledge and skills must be continually reinforced through specialized training in order to reach professional goals and meet the needs of the company's businesses.
Training plans
In order to have a top team of people in place, Abengoa draws up individualized training programs as the product of the analysis of each employee's competencies and which is part of company's Strategic Plan framework.
Abengoa's training plan covers all of the contents needed to boast a highly qualified team of people who are committed to corporate culture. This is achieved by combining attendance-based and online methodologies to adapt to worker requirements. As part of its commitment to mobility and new technologies, Abengoa raised the number of online courses available by 42 % in 2014 for a total of 5036
Over the course of the year, 2.4 M hours were dedicated to training, up by 33 % over 2013. The company achieved an average of 63.7 h7per employee and made a direct investment totaling €6.58 M, with an average investment of € 242 per person.
---
Note 6: Online training is carried out through the Campus Abengoa platform, which coordinates and systematizes all of the company's online training and is accessible from any computer or mobile device.
Note 7: Internship hours were not taken into account in computing the average number of training hours per employee, taking the average staff data without including trainees.
The increase in the number of training hours over the past three years is shown below: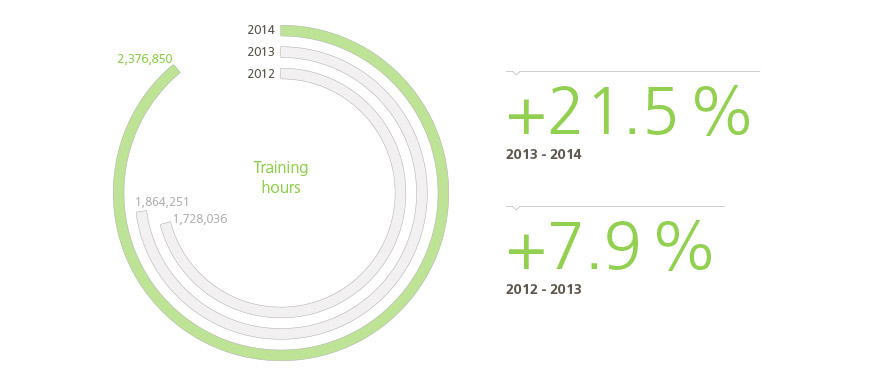 The training provided within the company encompasses both general topics and specific training plans geared towards the different personnel categories and duties.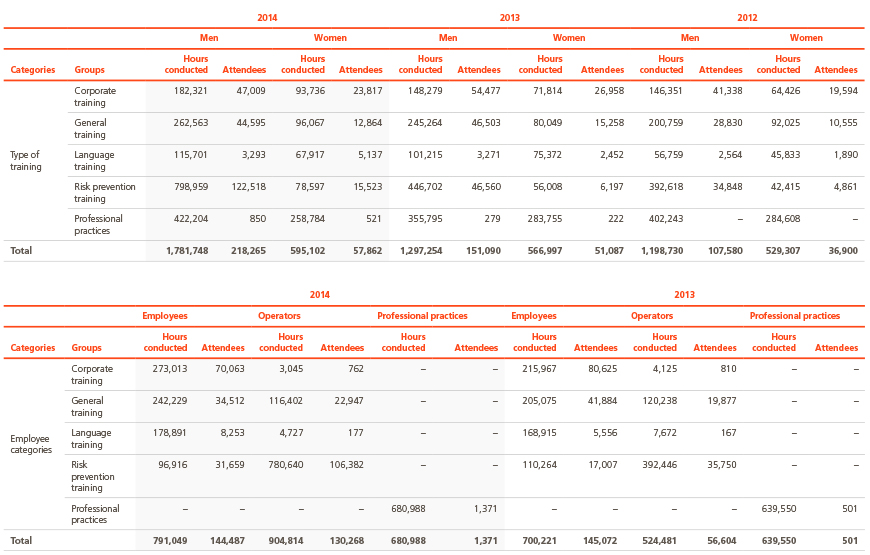 The distribution of training hours by training category in 2014 was as follows:


Abengoa has developed an evaluation procedure to gauge learner satisfaction with the training received in order to determine whether training is in line with personnel needs, from the standpoint of improving both employee performance and business results. This exercise enabled us to determine that in 2014 overall employee satisfaction scored 3.35 out of 4, which represents an increase of 3 % in the degree of satisfaction with respect to 2013.
In addition, progress was made in 2014 in implementing the Language School, through which more than 1,200 employees in Seville and Madrid received instruction. This has also enabled the unification of class methodology and adaptation to the company's present reality and needs.
Mobile Learning
Abengoa has taken yet another step forward in incorporating new technologies for employee training. In addition to the already existing catalog under the e-learning, mode, new contents are being developed that are especially geared for mobile devices.
The first phase of implementation included training in human resources and the Common Management Systems.
These new contents are based on a more visual, user-friendly and motivating offering for the purpose of reaching the end user in a more efficient and practical manner, especially intended for those who have to travel on a regular basis.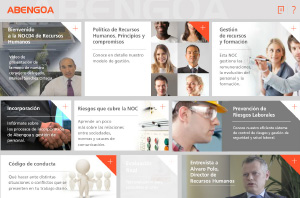 Abengoa University
Since 2012, Abengoa University acts as a catalyst for bolstering the strategic abilities of Abengoa's executives. Through the more than 90 editions of the variety of attendance- or semi-attendance-based programs implemented, it has consolidated to become an example in the realm of business training. Thus, Abengoa University has collaborated with more than 18 universities, close to 2,900 employees have participated, and over 250,000 hours of training have been accumulated. All of this takes place in 17 different locations in 12 countries.
The new training contents developed in 2014 within the Abengoa University framework are the following:
Abengoa Executive Development Program (AEDP): din 2014, learning program design restructuring was carried out, adapting contents to Abengoa's global reality (presence in numerous geographies). This change began with application to the AEDP, modifying structure toward a blended8 format in order for employees to have access wherever they may be, whether it's a worksite or on business. During the first year of the model change, the AEDP had a total of 14 e-learning blocks and four in-person locations (two in Seville at the Loyola Leadership School, one in Washington, D.C., and one in Chicago at Loyola University Chicago). The program obtained a satisfaction score among participants of 4.42 out of 5.
Abengoa Direct Execution Management (ADEM): program designed to train project managers. This program has a highly practical component and is conducted around personal experiences of company heads, enabling the company to train 199 participants in different geographical locations (30 in Mexico and the U.S., 129 in Brazil, 17 in Poland and 23 in South Africa). The program received an average final evaluation score of 4.49 out of 5.
Abengoa Direct Execution Management (ADEM): a practical workshop with the primary aim of providing training and improving oral communication skills of company executives. This is a key tool in developing executive leadership and in increasing company productivity and competitiveness. The program received an average score of 4.48 out of 5.
Internship program
The pursuit of people with talent is characteristic of Abengoa, and this holds true for those seeking their first opportunity in the job market.
Abengoa's internship program is intended to help complete the training of future professionals through training internships. To this end, the company has signed 76 agreements with different academic institutions. This model of training integration enables interns to have access to a personal tutor who provides them with support for their personal and professional needs.
Abengoa is committed to young talent and, for this reason, of the more than 1,400 program participants who began their internships in 2014, 55 % of those who completed the program with a favorable evaluation have joined the Abengoa workforce.
---
Note 8: Blended learning: traiming systen which integrates face to face and on line methods.
Attracting, developing and retaining talent is the key to our success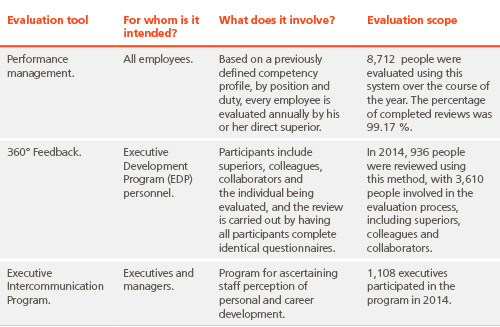 Attracting, developing and retaining talent
Abengoa firmly believes that the key to the company's success lies in attracting, developing and retaining top talent.
With the aim of attracting new generations and the very best people, Abengoa has reinforced its recruitment strategy through a broader and enhanced presence on the internet and in social networks.
As a result of this strategy, 25,1109 job applications were received through the employment website in 2014.
In order to further the professional development of its employees, the company considers having a formal performance review procedure in place to be essential. To this end, the company has tools in place, through which to evaluate each one of the people who make up the Abengoa team
Among the tools in place at Abengoa for monitoring employee satisfaction is the Work Climate Survey, This survey is conducted every two years and helps the company to gather valuable information for gaining an understanding of employee perception of the company and company management. It is, without a doubt, a key instrument to concentrating efforts on improving working conditions and retaining personnel talent.
In the last implementation of the survey, which took place in 2014, 12,470 surveys were administered, with a response percentage of 86.3 %, up by 0.3 % over the previous edition, held in 2012. The overall satisfaction score was 72.2 out of 100, which represents an increase of 1.1 % with respect to 2012 results.
This survey has given rise to initiatives for promoting pride in belonging o the company, such as the open house events at Campus Palmas Altas (corporate headquarters located in Seville), Kaxu Solar One (South Africa) and the Solucar Complex (Seville).

In 2014, more than 60 different initiatives, were carried out, with an associated investment totaling close to € 70,000, for the purpose of promoting a smooth and pleasant working environment within the company.
Noteworthy are the following initiatives:
Photography contests on different themes in different geographical areas.
Sports competitions.

Publication of in-house newsletters, by geography or business, to provide information on the company's day-to-day matters and employee experiences.
Talks on disease (unrelated to work) prevention linked to daily activities, particularly in countries with a high rate of communicable diseases.

Pictures about the open house events held during 2014.
---
Note 9 Applications were also received through social networks and a variety of employment portals. These were not factored into this number
On October 4, Abengoa held its 2nd Annual Open House at Campus Palmas Altas. The event was attended by around 400 people, including employees, family and friends. During the visit, participants had the chance to enjoy a guided tour of the campus, during which they learned details of the facilities and then enjoyed appetizers at the food court of the company's Sevillian headquarters. At the end of the activity, a satisfaction survey was conducted to learn about participant perception. The scores out of 5 obtained were the following: 4.88 in the Overall aspects and satisfaction with the event category; 4.98 in Attention received by organizing personnel and volunteers; 4.71 in Interest and suitability of content; and a 4.76 in Intention of continuing to attend upcoming events.
Protection of human rights
To ensure protection of the rights of its employees, all company personnel are included under supra-company labor regulations, regardless of the nature of their activities or the countries where such activities are carried out. In addition to the legislative protection offered in each country, of particular importance are collective bargaining agreements for the industry, territory, or those of the company itself, signed up to by workers or trade unions, depending on each case.
In addition, as a fundamental labor right, the company assures employees that they will be informed in advance of any structural or organizational change to occur within the company, either individually or via employees' representatives, pursuant to the notice periods prescribed by law and under collective bargaining agreements
The entire company is called upon to take the initiative in improving business processes, working atmosphere conditions and in problem-solving. To this end, the company promotes the use of a variety of channels and computer tools, such as Abengoa Easy Managment, suggestions through the Employee Portal and satisfaction surveys.
In 2014, among the companies accounting for 62 % of the employees in the social perimeter that include the main geographies where the company operates, 211 claims involving labor practices ended up in lawsuits. Claims derived from collective proceedings were grouped together. Anticipated for inclusion in 2015 are data on the entire social perimeter.
In order to forestall incidents related to the violation of human rights, the company conducts training courses based on this issue, as well as in matters dealing with anti-corruption. In 2014, more than 18,792 h of training were dedicated to these areas for company employees and subcontracted personnel.

In order to forestall incidents related to the violation of human rights, the company conducts training courses based on this issue, as well as in matters dealing with anti-corruption. In 2014, more than 18,792 hours of training were dedicated to these areas for company employees and subcontracted personnel
Through the systems in place for this purpose, Abengoa reported six notifications in 2014 regarding discrimination-related issues. Two of them were resolved in favor of the company, three are pending resolution and one of the cases resulted in the termination of the employee reported. The Abengoa companies where these notifications were registered have undertaken a commitment to provide their employees with training in order to prevent future incidents of this kind.
Diversity and equality
Abengoa upholds an explicit commitment to equal opportunities and non-discrimination regardless of gender, race, color, religion, opinion, nationality, economic status or any other circumstances.
These principles are expressly stated in the company's different policies (regarding hiring, recruitment, training, performance review, promotion, compensation, working conditions, family-work life balance, prevention of harassment, etc.).
With the aim of ensuring equal treatment and opportunities with respect to gender, and to prevent any situations that might constitute labor discrimination, be it direct or indirect, Abengoa created its own Equality Framework Plan in 2008. This applies throughout the company and compliance therewith is evaluated through the established channels and in annual visits to group companies to verify compliance with SA 8000 directives.
The mission upheld by this corporate body is to advocate gender equality throughout the company, promoting, developing and managing the Equality Framework Plan and associated programs. Within the framework of this plan, the company has a work harassment whistleblower channel aimed at addressing any situation susceptible to being considered discriminatory. The Committee for Equality was also set up and tasked with conducting worldwide monitoring of issues related to gender equality.
In 2014, the Equality Committee met twice for the purpose of analyzing and evaluating the company's status and to draw up measures to achieve the 2020 target10.
---
Note 10: Attaining a 20 % ratio in women holding senior management positions and 35 % in women holding middle management positions.
We are working to incorporate disabled persons into social and work life by promoting employment, integration and accessibility
Among the measures that have already been implemented are the following:
Quarterly committee meetings to address two essential variables: 1) potential cases of discrimination or violations of the principles established under the plan, and 2) devising measures to promote equality.
Internationalization of the member profile to better address all possible cases
Conducting an analysis of "invisible barriers" within the company.
Setting up lactation stations at work facilities with more than 50 employees

11

.
---
Note 11: This measure will be implemented during the first quarter of 2015.
Creating business opportunities for disabled people
Since it began doing business, Abengoa has backed absolute integration of disabled people by carrying out efforts focused on social responsibility.
The company is working to achieve the incorporation of disabled people into social and working life by fomenting employment, integration and accessibility. To this end, the company promotes initiatives aimed at integration into the job market of groups which for different reasons suffer from exclusion, and giving priority to the person above his or her limitations.
In Spain, there were 110 disabled people among the company's workforce as of December 31, 2014.
Worth of special mention among the diverse programs and initiatives developed by Abengoa to promote the integration of people with different disabilities, is the Inserta & Integra research project and the organization of contests for funding assistance for companies in integrating the disabled through the Focus-Abengoa Foundation, as well as courses conducted, including secretarial training, which is now in its sixth edition. The aim of this course is to help bring people with different disabilities into the job market through professional training. Students have the opportunity to receive theoretical and practical training while enjoying paid internships at a variety of Abengoa companies.
All of these programs are intended to attract and train people with some type of disability in order to facilitate their entry into the job market in the different dimensions of Abengoa activity.
Remuneration policy
Having a remuneration policy that is fair and competitive constitutes an indispensable aspect of ensuring success in attracting and retaining talent.
The company's remuneration policy reflects utmost observance of legal regulations and safeguards equal pay and equal treatment and opportunities between men and women, in keeping with the principles of equality and non-discrimination demanded by the policies and commitments undertaken by the company.
Employee compensation is established according to the wage reality and legal regulations of each geographical territory where Abengoa conducts its activities.
The table below shows the male-to-female salary ratio in the countries where the company has a greater presence.

(1) Data obtained from a representative sample of companies in significant geographic areas.
(2) Trainee contracts were not taken into account in computing salary ratios.
(3) The calculation took into consideration personnel from the degree holder category without taking differences in duties or positions into account.
The table below shows the percentage paid above the minimum inter-professional wage (MIW), taking into account the degree holder, administrative staff and operator categories, thus providing an indicator of the competitive salaries the company offers.

The company's remuneration policy establishes supplementary variable remuneration as compensation for some company employees depending on their activity performance and the degree to which personal objectives are fulfilled. 30 % of company employees have variable target-based remuneration.12 have variable target-based remuneration.
Employee benefits
Abengoa makes a series of benefits available to its employees with the aim of enhancing quality of life and facilitating work and personal life balance. Employee benefits provided comprise a wide range of advantages and services in line with each geographical location and workforce
---
Note 12: The data was calculated based on the employee category.
Shown below are some of the benefits available to company employees.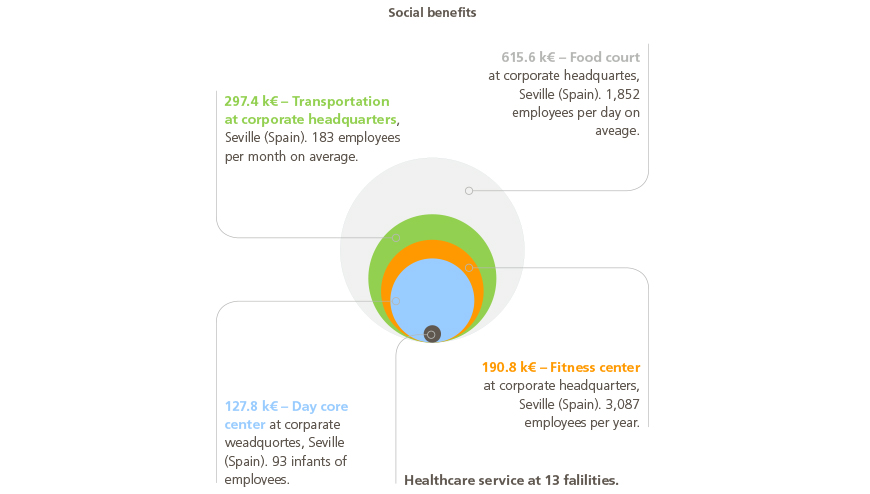 Occupational health and safety
Ensuring optimal working conditions in the area of occupational health and safety is a top priority for the company. Abengoa therefore implements occupational risk prevention systems that are audited periodically by authorized entities which certify their degree of alignment with legal regulations and efficiency level. These systems have four essential underpinnings:
Principles of Abengoa's Occupational Risk Prevention (ORP) policy.
Legal provisions that are applicable in each country of company operation.
Contractual specifications of the company's customers in this area.
Requirements of the OHSAS

13

, standard, the international set of norms pertaining to occupational health and safety systems.

(1)

In the process of being certified are plants that were under construction in previous years and which began operating in 2014.
In 2014, the company worked on development and implementation of computer tools such as Abengoa Easy Management and the Global Footprint. These applications constitute a significant improvement in controlling occupational risks in group companies, work facilities and project sites, particularly in the construction and startup of Abengoa's major projects.
---
Note 13:

OHSAS 18001: international certification for occupational health and safety management systems.
The company considers that the success of its occupational risk prevention campaigns, as well as the effectiveness of improvement measures, requires joint commitment and collaboration from everyone involved. With this aim in mind, all Abengoa companies have set up health and safety committees that meet monthly to monitor and warn about any aspects that may pose risks to the occupational safety of workers, analyze accident rates and implement the measures needed to meet objectives set in this regard.
These committees are made up of executive and ORP heads and represent 95 % of the company's entire workforce.
A fundamental part of meeting these objectives lies in training all company employees through specific ORP courses. These courses are extended to include subcontracted personal working in Abengoa activities or installations.


The number of hours of ORP training provided to company employees continues to rise with respect to previous years.
The graph below shows the evolution since 2012:

Abengoa continues to augment means and resources for meeting the objectives established under the company's «zero accidents» policy.
The company places particular emphasis on evolution of work-related accidents and absenteeism, especially in the companies and working areas where construction work is being executed.

Distribution of such data in the countries where the company has a higher presence was as follows:

Some activities, due to the country of project location or associated processes, may result in employee exposure to certain risks or occurrences of communicable diseases. Abengoa strives to minimize these risks and, to this end, a range of preventive measures were carried out in 2014.
Among specific illnesses with a high rate of occurrence in particular geographical areas, malaria, cholera and tuberculosis are those which pose the greatest risk to employees. To prevent these diseases, Abengoa carries out vaccination of personnel transferring temporarily or permanently to countries with risks of these and other diseases, in addition to conducting medical checkups and tests and providing training on preventing and contracting diseases.
With respect to other work-related health conditions, loss of hearing, which can affect employees who carry out their work in an environment with high noise levels, or legionnaire's disease for those working in laboratories, are two examples that can potentially be linked to professional duties. At Abengoa, risk minimization plans are implemented, as well as ongoing training, prevention and monitoring of these and other health conditions. These plans are drawn up by project and by geography. To prevent hearing loss, for example, one measure is the mandatory use of individual protection equipment. Machinery maintenance is ongoing and pertinent rooms are soundproofed. In the case of legionnaire's disease, apart from requiring the use of protection equipment, chemical treatment is applied to prevent the presence of legionella bacteria.
«Zero accident» policy
Abengoa's target is zero accidents resulting in fatalities in all company works, projects and installations. The company promotes supervision, monitoring and training as fundamental tools in fulfilling this objective.
Employee and subcontractor accidents resulting in fatalities

Project Fingerprint
In 2013, Project Fingerprint was set in motion. This innovative project aids in managing all of the information pertaining to the health and safety of providers and employees involved in construction work and includes personal identification using fingerprints. The aim of the project is to ensure that all personnel accessing worksites meet the legal, safety, security and training requirements set down by the company.
This year implementation was carried out in more than 20 countries, including registration of over 20,000 people between company employees and subcontractors. Last year's figure was 14,000.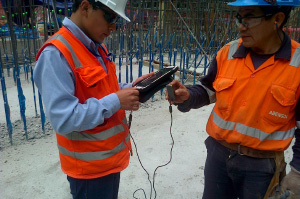 Abengoa's Human Resource unit received the highest award granted by the
European Foundation for Quality Management (EFQM)
, the European Seal of Excellence +500. This recognition underscores the quality of this leading management model implemented in accordance with international standards.
The EFQM European Seal of Excellence was obtained following the successful completion of a rigorous external assessment process endorsed by AENOR and the Management Excellence Club. The evaluation rendered a score of over 600 points, thereby surpassing the 500 level achieved in the last examination.
The assessment process involved evaluation of different variables, including the capacity to maintain outstanding results over time; leadership with vision, inspiration.